Transportation
Involving the movement of property or people by water, road, rail and air.
Transportation involves the movement of property or people by water, road, rail, air and pipeline, and is vital to the economic development of a country. Increased globalization has increased demand for transport. At the same time, transport has become more complex, with new risks emerging continually.
We've come a long way since horse-drawn carriages, and the evolution of transport has brought us faster, more efficient methods of moving cargo, and ourselves, around. In the last 150 years, we have witnessed the introduction of transcontinental railways, containerized ships, the invention of the airplane, and mass production of automobiles and trucks.
Eagle is able to offer products and services that enable companies to boldly grow their businesses with the knowledge they are protected against potential losses.
Benefit
Eagle's expertise in transportation can assist your clients to:
Pursue new and larger customers
Enter new markets
Access more capital, protect cash flow and protect the balance sheet
Enjoy the recreational aspect of transportation
Target
We focus on several facets of the transportation industry:
Logistics — companies that facilitate the movement of property/people – forwarders, custom brokers, terminals/depots, warehousemen, stevedores, couriers, packers, exhibitions, projects.
Cargo owners — companies that engage in the trade of goods such as manufacturers, wholesalers, distributors.
Operators — companies/people that own and/or operate modes of transport – marine (offshore supply, tug & barge, work boats, ferries, tour boats, fishing vessels, builder's risk, pleasure-craft), railways (short haul, mainline, transit), road (motor truck, van lines, trailers, local, long haul, garage keepers, logging, contractors), air (scheduled, non-scheduled, private, and special).
Service Providers — companies that support the transport of property/people – repairers, builders, maintenance, contractors, brokers, agents, consultants, architects, engineers.
An aging transportation infrastructure creates new challenges in the transportation industry. Proper risk management and insurance are key to protect your client's business.
Types of Coverage
Eagle offers several products that protect your client's transportation risks. These products are very complementary to our Trade and Movable Property products, as well as other related coverages, such as Cyber Liability and Management Liability.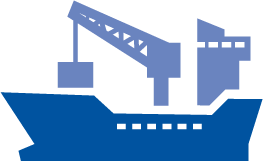 Marine
A full range of coverages that responds to transportation risks on water…
Cargo — domestic and worldwide coverage for most types of cargo including general cargo, stock through-put, project cargo & delay-in-startup, manufactured goods, commodities, heavy-lift, valuable cargo, hazardous cargo, perishable cargo, rejection insurance.
Cargo Legal Liability — coverage for various providers of logistics services for liability arising out of the operations of a freight forwarder, customs broker, warehousemen, trucker, aircraft operator.
We offer a complete package for logistic providers, that includes cargo, liability, E&O, D&O, business package – with a fully automated cargo rating and reporting system.
Errors & Omissions — coverage for the professional liability of a load broker, freight forwarder, or customs broker.
Many of your clients have new levels of contractual liability. Eagle is able to work with your clients to review their contract management strategy.
Third Party Liability — coverage for liability to third parties for bodily injury and property damage.
Hull & Machinery — coverage for physical loss or damage to vessels of all sizes and types including small harbor-craft, charter vessels, fishing vessels, tug & barges, and ferries. May include increased value, loss of hire, third party collision liability, builder's risk and war.
Protection & Indemnity — P&I coverage for the liability of vessel operators. We are able to write risks from the smallest vessel to the largest vessel with our partnership with MS Amlin Marine NV (formerly Raets Marine).
Pleasure-craft — coverage for any size of vessel ranging from a small runabout to a mega-yacht.
Our On-Line Yacht quoting tool enables you to obtain a quote and issue a policy in minutes.
Marine General Liability — coverage includes Protection & Indemnity, Charterer's Liability, Port Stevedore Liability, Wharfinger Liability, Ship-repairer Liability, Terminal Operators Liability, Transport Equipment Liability.
Our comprehensive wording combines commercial general liability coverages with 'traditional' marine liability coverages.
Aviation
Eagles' unique approach is focused around providing a complete solution customized for the aviation industry.
Commercial Fixed-Wing Aircraft — Targeting tourism, cargo, charter, survey, sightseeing, search & rescue, forestry, exploration and air ambulance. Covers physical loss or damage to an aircraft or equipment, as well as liability with respect to passengers, baggage and cargo carried on the aircraft, and third-party liability for damage/injury to property or people outside of the aircraft.
Commercial Rotor-Wing Aircraft – Preferably turbine aircraft.
Private Business & Pleasure — Including flying clubs and schools.
Premises, Products and Hangar-keepers — coverage for liability arising out of the Insured's aircraft operation for premises, products, and hangar-keepers.
Non-Owned Aircraft Liability — coverage for liability for the operation of an aircraft for which the Insured does not own. We can cover many industries, including energy, mining, manufacturers, who have this exposure.
Manufacturers — coverage for liability for the manufacture of aircraft, components, equipment, systems, and avionics.
Contractors — coverage for liability for companies involved in aviation work, such as construction, maintenance, fuel delivery, and cargo.
Maintenance, Repair, Overhaul (MRO) — coverage for the liability of companies engaged in the maintenance, repair or overhaul of aircraft, including testing, conversions, controls, equipment.
Airports — coverage for liability arising out of the operation or use of any airport, including terminals, handlers, refuellers, contractors, maintenance, storage, taxiways, runways, air traffic control.
'Non-Aviation' Coverages — we are able to bundle several coverages that are required by companies and persons involved in the aviation industry. These include Property, Boiler & Machinery, Commercial General Liability, Non-Owned Automobile Liability, Environmental Liability, Cargo, Mobile Equipment, Pleasurecraft/Yachts, and Fine Art.

Land
A full range of coverages that responds to transportation risks on land…
Rolling Stock — coverage for physical loss or damage to locomotives and rails cars.
Maintenance Equipment — coverage for loss or damage to equipment used in the rail industry.
Railroad Liability — coverage for liability to third parties for bodily injury and property damage arising from the operation of the railroad.
Railroad Passenger Liability — coverage for liability for bodily injury to passengers.
Vehicles — coverage for physical loss or damage resulting from the operation of vehicles – both licensed and un-licensed These include mobile equipment and other support vehicles for airports, railroads, and marine ports, as well as trucks and trailers used in the transport of goods.
Often these vehicles are overlooked in the assessment of a marine or aviation risk.
We can cover these risks for freight forwarders, which gives them proper coverage for their operation.
Eagle is able to combine 'related' specialty coverages, such as environmental liability, to properly protect these land risks.
Human error is a primary cause or contributing factor in disasters and accidents in transportation. Accidents result from improper or inadequate training or absent-mindedness. Transportation accidents can be avoided with proper risk management.